Configure VSCode for Java Deveopment in Linux is quite tricky. To reach the goal just follow the steps bellow.
Now lets dive for Fedora 33.
Step 1: Make sure you have VSCode installed up and running.
Step 2: In the Extension panel search for Java. Just type java and install Java Extension Pack look like bellow image. All the extensions will be download and installed

Step 3: Here we will create spring boot application. For that another extension has to be installed. Just type spring and install the extension look like bellow image.

Step 4: After those installation open command palette with alt + shift + p and type in palette spring initialize and select create a maven project and press enter.
Step 5: Next select spring boot version, project language, give a group id, input artifact id, specify packaging type, specify java version that is open jdk, finally select dev dependency that you are needed. And finally press enter to save a config file.
Step 6: Select a directory to install the zip file.
Step 7: First extract the zip file to a development directory. And open the main application java class.
Step 8:  Now Its time to setup the java environment. VSCode will indicate the open JDK not found error. Just press download button like bellow image.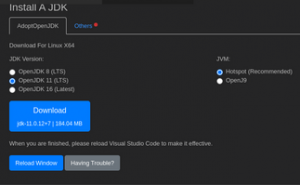 Extract the tar.gz file to /usr/lib/jvm directory.
Step 9: After that setup the JAVA_HOME. Open .bashrc profile with following command
-> vim ~/.bashrc
Insert the following lines in it.
export JAVA_HOME=/usr/lib/jvm/jdk-11.0.12+7
export PATH=$PATH:$JAVA_HOME/bin
export CLASSPATH=.:$JAVA_HOME/jre/lib:$JAVA_HOME/lib:$JAVA_HOME/lib/tools.jar
Run the source cammand to set the global effect.
-> source ~/.bashrc
Step 10: Finally setup the jdk in VSCode. To do that go user setting in VSCode and search by typing "java home". Edit the json config file look like bellow
"java.home": "/usr/lib/jvm/jdk-11.0.12+7",
The above line is not just set the jdk path.
Thats it. whooo you have done. go and enjoy the new experience of java in VSCode.